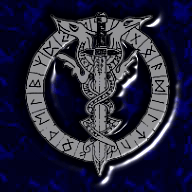 Olde Norsk Rune Poem

This Rune Poem dates from the end of the twelfth to the beginning of the thirteenth century when it was written down, but is far older orally dating between 400 and 1150 C.E. Also this seems to be the least used poem by the scholars and bears a striking similarity to the Islandic poem ~ (after all the Islandic peoples originated in Scandinavia) ~ It quite possibly being a streamlined version of the Eldar Futhark Runic Poem that is sadly lost to us, this Norsk poem still contains immense esoteric knowledge and an everyday glimpse into the past if we but open our minds:
---




FE:
gold causes strife among kinsmen;
the wolf grows up in the woods.


ÜR:
slag is from bad iron;
oft runs the reindeer on the hard snow.


THURS:
causes the sickness of women;
few are cheerful from misfortune.


ÅSS:
estuary is the way of most journeys;
but the sheath is such for swords.


REIÐH:
riding, it is said, is the worst for horses;
Reginn forged the best sword.


KAUN:
sore is of children a curse;
grief makes a man pale.


HAGALL:
hail is the coldest of grains;
Hropt shaped the world in ancient times.


NAUÐH:
need makes for a difficult situation;
the naked freeze in the frost.


ÎSS:
ice, we call the broad bridge;
the blind need to be led.


ÅR:
good harvest is the profit of men;
I say that Froðhi was generous.


SØL:
sun is the light of the lands;
I bow to the holiness.


TYR:
Tyr is the one-handed among the Æsir;
the smith has to blow often.


BJARKAN:
birch twig is the limb greenest with leaves;
Loki brought the luck of deceit.


MAÐHR:
man is the increase of dust;
mighty is the talon-span of the hawk.


LOGR:
water is that which falls from the mountain;
tis a force; but gold tokens are costly things.


YR:
yew is the greenest wood in Winter;
there is usually, when it burns, singeing.
Choose Where You Will

CopyRight © 1998 ‹:› All Rights reserved
•••Vitki Yens Dælîþørn•••